ICAA 2020 Virtual Convention
October 6 – 8, 2020
6 webinars — 3 days — 0 cost to members

Our convention theme for 2020 was "A Vision for the Future" … little did we know we'd have to adjust that vision and take our educational sessions online! Although we can't meet in person, we are happy to bring you our planned programming through a series of expert-led webinars. You can expect the same caliber of relevant and useful information that you've come to expect at the ICAA Convention … just online.
Join us as we bring our top-notch educational convention sessions online with six webinars over three days! We can't be together this year, so we've gone virtual – and it's all FREE for ICAA members!
Member companies can register as many employees as they wish (all free)!

Registration includes all six webinars – attend a few or all

Each webinar will include time for Q&A

All webinars will be archived and available to ICAA Members below (member login required)!

A $500 door prize will be awarded during each webinar and ALL registered attendees will be entered into a drawing for a $1,000 grand prize!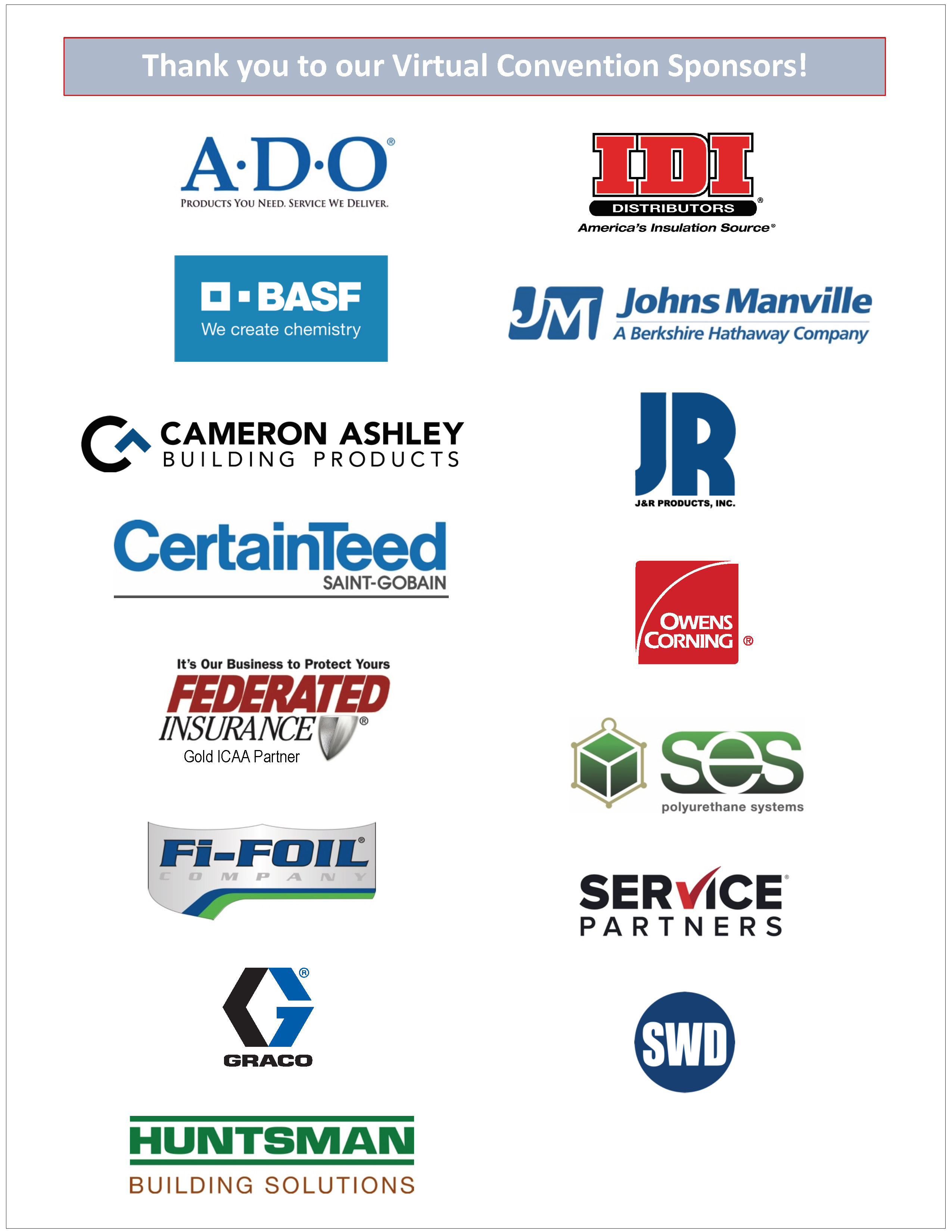 Scroll down for an A-Z list of our Sponsors with links!
ICAA 2020 VIRTUAL CONVENTION WEBINAR DESCRIPTIONS
Safety & Health in a COVID-19 Environment
Speaker: Doug Jenks, Esq., Auman, Mahan + Furry
Tuesday, October 6, 12 Noon  VIEW WEBINAR | DOWNLOAD PDF
OSHA has cited businesses for failure to comply with COVID-19 safety measures and to have a comprehensive written respiratory protection program, as well as for not providing medical evaluations or fit testing prior to employee respirator use. We'll review the latest construction industry and CDC safety guidelines, discuss reasonable workplace safety measures, highlight ICAA's Model Written Respiratory Protection Program, and distinguish between required and recommended on a manufacturer's Safety Data Sheet.
Time to Go Through Your DOT Compliance Checklist
Speaker: Alex Vukonich, DOT Safety Consultant
Tuesday, October 6, 3:00 PM   VIEW WEBINAR | DOWNLOAD PDF
Insulation contractors are considered Motor Carriers by law; therefore, your business is regulated under Federal Motor Carrier Safety Regulations (FMCSR). Failure to comply with FMCSR can result in severe penalties. There are more moving parts here than you'd ever think, so we'll guide you on the most important. In this session you'll learn about: USDOT numbers, weigh and inspection stations, IFTA and IRP trip permits for out-of-state travel, CDL requirements, vehicle compliance, driver qualification, hours of service, logbooks, and trailer records.
Construction Contracts, Coronavirus Complications, Confusing Clauses
Speaker: Ben Lowenthal, Esq., Hendrick, Phillips, Salzman & Siegel, P.C.
Wednesday, October 7, 12 Noon
We'll examine contract clauses that limit your liability in light of the COVID-19 environment: force majeure, suspension of work, delays, change in law, supply disruptions (product, accessories, PPE, labor), notice requirements, waiver of liability from retrofit customers, employees, and other trades. We'll also discuss the most harmful General Contractor clauses, propose reasonable remedies, and recap the most effective ways to amend a contract. Learn to identify 'killer' contract clauses that can hurt your company's wellbeing.
How to Manage Workers' Comp Claims in Uncertain Times
Speaker: Jill Swygart, Stephenson & Brook
Wednesday, October 7, 3:00 PM
Managing a workers' compensation claim can be a serious undertaking in which errors and missteps can be extremely costly. This task can be even more challenging during the economic instability facing employers today. The manner in which an individual claim is managed determines not only its own direct cost, but also its financial impact on workers' comp premiums in subsequent years. Learn how to design and execute a strategy for claim resolution with optimal cost-saving impact. Discover how to work with attending physicians to establish a realistic return-to-work timetable and when to request an independent medical review. Hear the latest trends with COVID-19 claims and how they can impact your business. Learn how and when your insurance carrier reports your claim reserves and the direct impact that has on your MOD rate and subsequent workers' comp premium.
10 Cybersecurity Tips Every Insulator Should Follow
Speakers: Thomas Pioreck, Cybersafe Solutions & Steve Searl, Federated Insurance
Thursday, October 8, 12 Noon
Insulators are not immune to cyberattacks; in fact, some have had their systems encrypted for ransomware. Get the tips and techniques to assess your computer vulnerabilities and ensure that your digital assets are secure. We'll cover best practices for protecting your network against the most common attack vectors, including account and identity access management, vulnerability and patch management, awareness training, and the adoption of frameworks and standards to help guide you along the way. We'll also look at cyber insurance coverage options to transfer this risk to an insurance carrier.
Your One-Stop Shop for COVID-19 Labor Questions
Speaker: Philip J. Siegel, Esq., Hendrick, Phillips, Salzman & Siegel, P.C.
Thursday, October 8, 3:00 PM
Insulators face unique employment-related issues during COVID-19 times. Steer clear of labor violations as we answer the most pressing questions in the construction industry. Get the inside scoop on when to pay for COVID-related employee leave and health insurance premium copayments, legal health checks, and valid unemployment compensation claims. How should employers begin the process of re-engaging their workforce? We will answer questions about furloughs, returning to work, paid leave, and COVID-19 screenings (questionnaires and temperature checks).
ICAA 2020 Virtual Convention Sponsors A-Z
ADO Products
Founded in 1988, ADO Products is your supplier for insulation accessories. We are grounded in the spirit of responsibility to you, our customer and we listen to your needs. We manufacture DUROVENT BAFFLE, proVent, and DUROVENT rafter vents and offer a full line of insulation accessories.
BASF
At BASF, we create chemistry for a sustainable future. Our wide range of spray polyurethane foam (SPF) products and tools help differentiate your business in the insulation marketplace. BASF provides extensive training and exclusive offerings like HP+ Building Enclosure Systems and Disaster Durable Solutions to help you succeed in today's competitive construction environment.
Cameron Ashley Building Products
With over 150 years in the industry, Cameron Ashley Building Products is a leading building material distributor serving insulation contractors. Through our network of over 40 strategically-located distribution centers, and an experienced direct-from-manufacturer sales team, you can purchase in the way that works best for your business. You'll have access to a full line of insulation products including fiberglass, blowing wool, spray foam, and even more accessories through J&R Products (now a division of Cameron Ashley)!
CertainTeed
At CertainTeed, we know your business depends on giving your customers the best products and service – so we do the same for you. We're the building science experts. We help you deliver the combination of thermal performance air tightness, acoustics, and moisture management that your customers need. Like you, we know what no insulation product or system is right for every part of every home, budget, or climate. That's why we offer a complete line of high performance insulation products for residential, commercial, and HVAC applications.
Federated Insurance – Gold ICAA Partner
Since 2015, Federated has been proud to be ICAA's exclusively recommended partner for its members insurance and risk management needs. Federated provides property, casualty, workers compensation, life, disability and surety to insulation contractors.
Fi-Foil Company
Fi-Foil manufactures advanced reflective insulation products and systems. The company offers an extensive line of value-engineered products made with sustainable building materials. They are ASTM International tested and backed by third-party verified code compliance. Fi-Foil has been serving the industry for 37 years and is committed to the sustainability and advancement of green building technologies. Learn more at fifoil.com.
Graco
Graco brings insulation intelligence to your next job site with advanced spray foam equipment technology such as Reactor Connect, which allows remote control of your machine and remote access to spray data.
Huntsman Building Solutions
Huntsman Building Solutions is a global leader in the manufacture and supply of open-cell and closed-cell spray polyurethane foam (SPF) insulation and coatings. Formed in May 2020 through the combination of the Demilec and Icynene-Lapolla SPF businesses, Huntsman Building Solutions is a business unit of Huntsman Corporation and has a combined heritage of more than 110 years. Through the application of innovative technology and advanced science, Huntsman Building Solutions focuses on meeting market demands for more energy-efficient products and serves a range of industries, including residential, commercial, industrial, institutional, and agricultural. For more information, visit www.huntsmanbuildingsolutions.com.
IDI Distributors
Over 55 locations servicing the insulation contractor nationwide with all insulation products, batts, blowing wool, spray foam, equipment, metal building insulation, ceiling tiles, and related accessories.
Johns Manville
Johns Manville, a Berkshire Hathaway company and global building products manufacturer, offers a complete range of high-quality insulation solutions for any residential or commercial job, including fiber glass, spray foam, polysio, blow-in, and mineral wool. Our focus on quality inspires our teams to consistently deliver innovative, high-performance products that support occupant comfort and energy efficiency. And our dedication to customer service means you can count on JM every time, for every project.
J&R Products, Inc.
Founded in 1977, J&R Products is a family owned distributor of residential and commercial insulation accessories. They also craft high-quality products including Innovents baffles, Insul-Shield recessed lighting covers, weatherstripping, and both wood and plastic plugs.J&R serves its customers nationwide from two locations with same-day shipping and free freight. Now a part of Cameron Ashley Building Products, they also serve the country with complete lines of distributed roofing, insulation, gypsum, and siding products in over forty locations across the country. J&R Products is here to meet the demands of the industry with the right products, right prices, right now.
Owens Corning
Owens Corning is a global leader in insulation, roofing, and fiberglass composite materials. Its insulation products conserve energy and improve acoustics, fire resistance, and air quality in the spaces where people live, work, and play. Its roofing products and systems enhance curb appeal and protect homes and commercial buildings alike. Its fiberglass composites make thousands of products lighter, stronger, and more durable. Owens Corning provides innovative products and solutions that deliver a material difference to its customers and, ultimately, make the world a better place.
Service Partners
Service Partners is the leading source of insulation products and related accessories. No matter the size or customer base of your business, our experienced team, vast inventory, and unparalleled scale ensure you get the expertise you want and the products you need, when you need them. With on-hand material and a strong distribution pipeline our team is also committed to following the latest health and safety guidelines to help keep our teams and warehouses safe. Your success is our business, so let us know how we can help you.
SES Polyurethane Systems
At SES, we produce urethane spray foam for residential and commercial applications. Our chemicals have created a unique formula that is believed to be the highest rapidly renewable content available in the industry.
SWD
At SWD Urethane, we understand spray foam is not a one size fits all product, which is why we invest heavily in state-of-the-art Research and Development to produce industry leading products in every performance category. QUIKSHIELD® products have been engineered to be the highest quality in the market and deliver contractors the most profitable solutions: QUIKSHIELD® 104EZ (No-Mix) is leading the industry of no mix products with excellent adhesion and low VOCs. It is safe to be installed without an ignition barrier in unvented attics; QUIKSHIELD® 106 (Open-Cell) is easy to use, provides exceptional yield, and delivers consistent results under almost any condition; QUIKSHIELD® 108YM, the "Yield Monster", has an Ultra-Low Density of 0.36-0.4 pcf, delivering more yield than traditional half pound foam; QUIKSHIELD® 112XC is a commercial-grade closed-cell spray foam ideal for both residential and commercial construction. Meeting all common residential and commercial specifications, QUIKSHIELD® 112XC is designed to be used in extreme job site conditions; QUIKSHIELD® 118 is the first Ultra-Efficient closed-cell, spray foam on the market today. It is specially formulated to increase job site efficiency, decrease labor and overhead costs, reduce jobsite risk, and deliver the lowest cost installed; QUIKSHIELD® 118XC is a cold-weather, closed-cell spray foam formulated for application in temperatures as low as -5F. The low viscosity allows applicators to use lower temperature without cracking, popping, or shrinking foam.