ICAA 2020 Virtual Convention
October 6 – 8, 2020
6 webinars — 3 days — 0 cost to members

Our convention theme for 2020 was "A Vision for the Future" … little did we know we'd have to adjust that vision and take our educational sessions online! Although we can't meet in person, we are happy to bring you our planned programming through a series of expert-led webinars. You can expect the same caliber of relevant and useful information that you've come to expect at the ICAA Convention … just online.
Join us as we bring our top-notch educational convention sessions online with six webinars over three days! We can't be together this year, so we've gone virtual – and it's all FREE for ICAA members!
Member companies can register as many employees as they wish (all free)!

Registration includes all six webinars – attend a few or all

Each webinar will include time for Q&A

All webinars will be archived and available to ICAA Members on the ICAA Member Site (member login required)!

A $500 door prize will be awarded during each webinar and ALL registered attendees will be entered into a drawing for a $1,000 grand prize!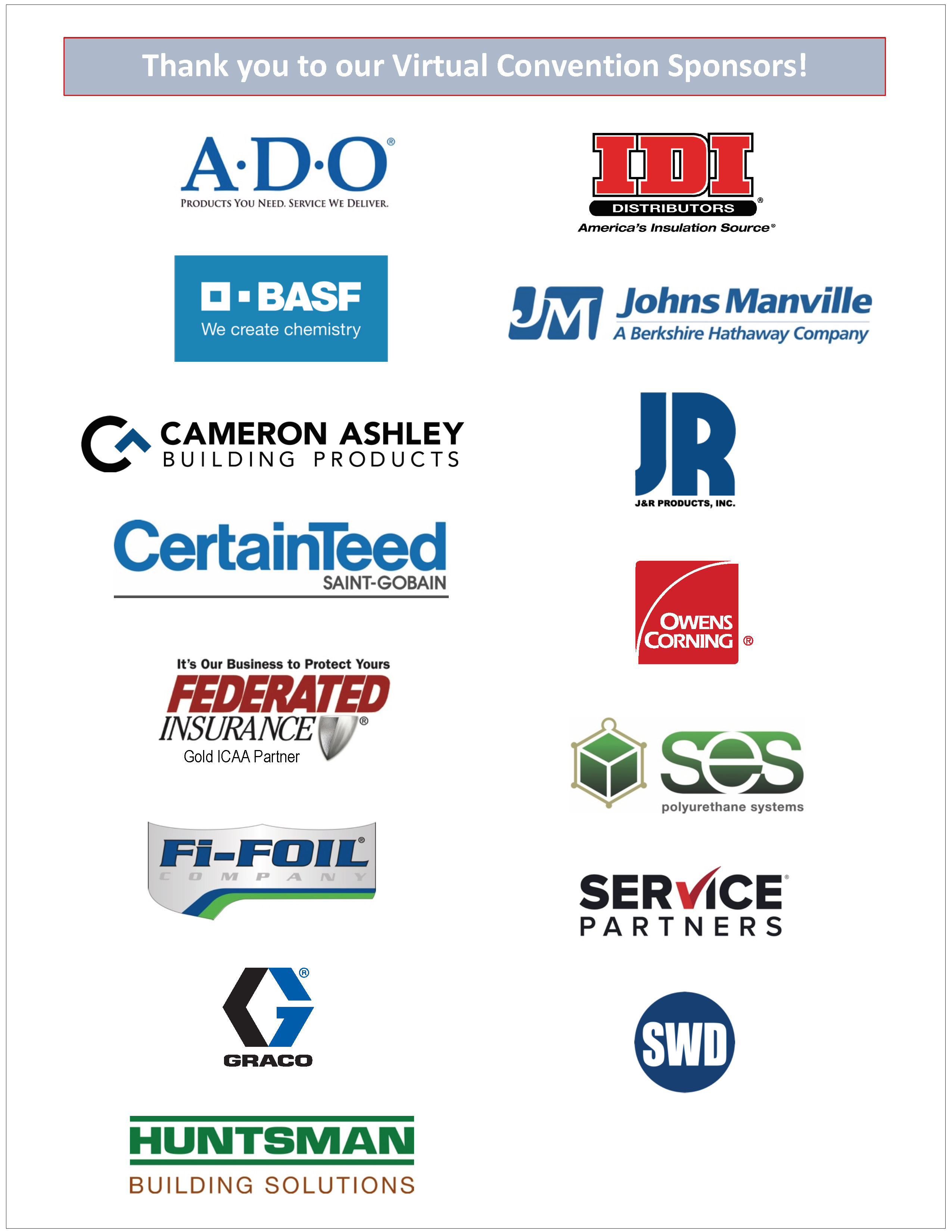 Scroll down for an A-Z list of our Sponsors with links!
ICAA 2020 VIRTUAL CONVENTION WEBINAR DESCRIPTIONS
Safety & Health in a COVID-19 Environment
Speaker: Doug Jenks, Esq., Auman, Mahan + Furry
Tuesday, October 6, 12 Noon
OSHA has cited businesses for failure to comply with COVID-19 safety measures and to have a comprehensive written respiratory protection program, as well as for not providing medical evaluations or fit testing prior to employee respirator use. We'll review the latest construction industry and CDC safety guidelines, discuss reasonable workplace safety measures, highlight ICAA's Model Written Respiratory Protection Program, and distinguish between required and recommended on a manufacturer's Safety Data Sheet.
Time to Go Through Your DOT Compliance Checklist
Speaker: Alex Vukonich, Safety Specialists
Tuesday, October 6, 3:00 PM
Insulation contractors are considered Motor Carriers by law; therefore, your business is regulated under Federal Motor Carrier Safety Regulations (FMCSR). Failure to comply with FMCSR can result in severe penalties. There are more moving parts here than you'd ever think, so we'll guide you on the most important. In this session you'll learn about: USDOT numbers, weigh and inspection stations, IFTA and IRP trip permits for out-of-state travel, CDL requirements, vehicle compliance, driver qualification, hours of service, logbooks, and trailer records.
Construction Contracts, Coronavirus Complications, Confusing Clauses
Speaker: Ben Lowenthal, Esq., Hendrick, Phillips, Salzman & Siegel, P.C.
Wednesday, October 7, 12 Noon
We'll examine contract clauses that limit your liability in light of the COVID-19 environment: force majeure, suspension of work, delays, change in law, supply disruptions (product, accessories, PPE, labor), notice requirements, waiver of liability from retrofit customers, employees, and other trades. We'll also discuss the most harmful General Contractor clauses, propose reasonable remedies, and recap the most effective ways to amend a contract. Learn to identify 'killer' contract clauses that can hurt your company's wellbeing.
How to Manage Workers' Comp Claims in Uncertain Times
Speaker: Jill Swygart, Stephenson & Brook
Wednesday, October 7, 3:00 PM
Managing a workers' compensation claim can be a serious undertaking in which errors and missteps can be extremely costly. This task can be even more challenging during the economic instability facing employers today. The manner in which an individual claim is managed determines not only its own direct cost, but also its financial impact on workers' comp premiums in subsequent years. Learn how to design and execute a strategy for claim resolution with optimal cost-saving impact. Discover how to work with attending physicians to establish a realistic return-to-work timetable and when to request an independent medical review. Hear the latest trends with COVID-19 claims and how they can impact your business. Learn how and when your insurance carrier reports your claim reserves and the direct impact that has on your MOD rate and subsequent workers' comp premium.
10 Cybersecurity Tips Every Insulator Should Follow
Speakers: Thomas Pioreck, Cybersafe Solutions & Steve Searl, Federated Insurance
Thursday, October 8, 12 Noon
Insulators are not immune to cyberattacks; in fact, some have had their systems encrypted for ransomware. Get the tips and techniques to assess your computer vulnerabilities and ensure that your digital assets are secure. We'll cover best practices for protecting your network against the most common attack vectors, including account and identity access management, vulnerability and patch management, awareness training, and the adoption of frameworks and standards to help guide you along the way. We'll also look at cyber insurance coverage options to transfer this risk to an insurance carrier.
Your One-Stop Shop for COVID-19 Labor Questions
Speaker: Philip J. Siegel, Esq., Hendrick, Phillips, Salzman & Siegel, P.C.
Thursday, October 8, 3:00 PM
Insulators face unique employment-related issues during COVID-19 times. Steer clear of labor violations as we answer the most pressing questions in the construction industry. Get the inside scoop on when to pay for COVID-related employee leave and health insurance premium copayments, legal health checks, and valid unemployment compensation claims. How should employers begin the process of re-engaging their workforce? We will answer questions about furloughs, returning to work, paid leave, and COVID-19 screenings (questionnaires and temperature checks).