2022 ICAA Convention & Trade Show
September 21 – 24, 2022
Sheraton Grand Wild Horse Pass, Phoenix, Arizona

The ICAA Convention & Trade Show is back and better than ever! This annual industry hotspot event is your one-stop shop to learn, network, and discover the latest products and services from the best in the business.
Every year, ICAA builds an educational program based on attendee feedback and timely industry trends. Our Convention Sessions cover business operations to building science and our presenters are experts in their field. The main event, however, is the accompanying Trade Show, which features a "star-studded" lineup of the industry's leading suppliers and manufacturers. 
Join us in Phoenix! For 2022, ICAA has developed a carefully chosen and thoughtfully organized educational program and schedule that ensures you won't miss any time on the trade show floor. We encourage all insulation contractors and suppliers to join us Phoenix … you've earned it!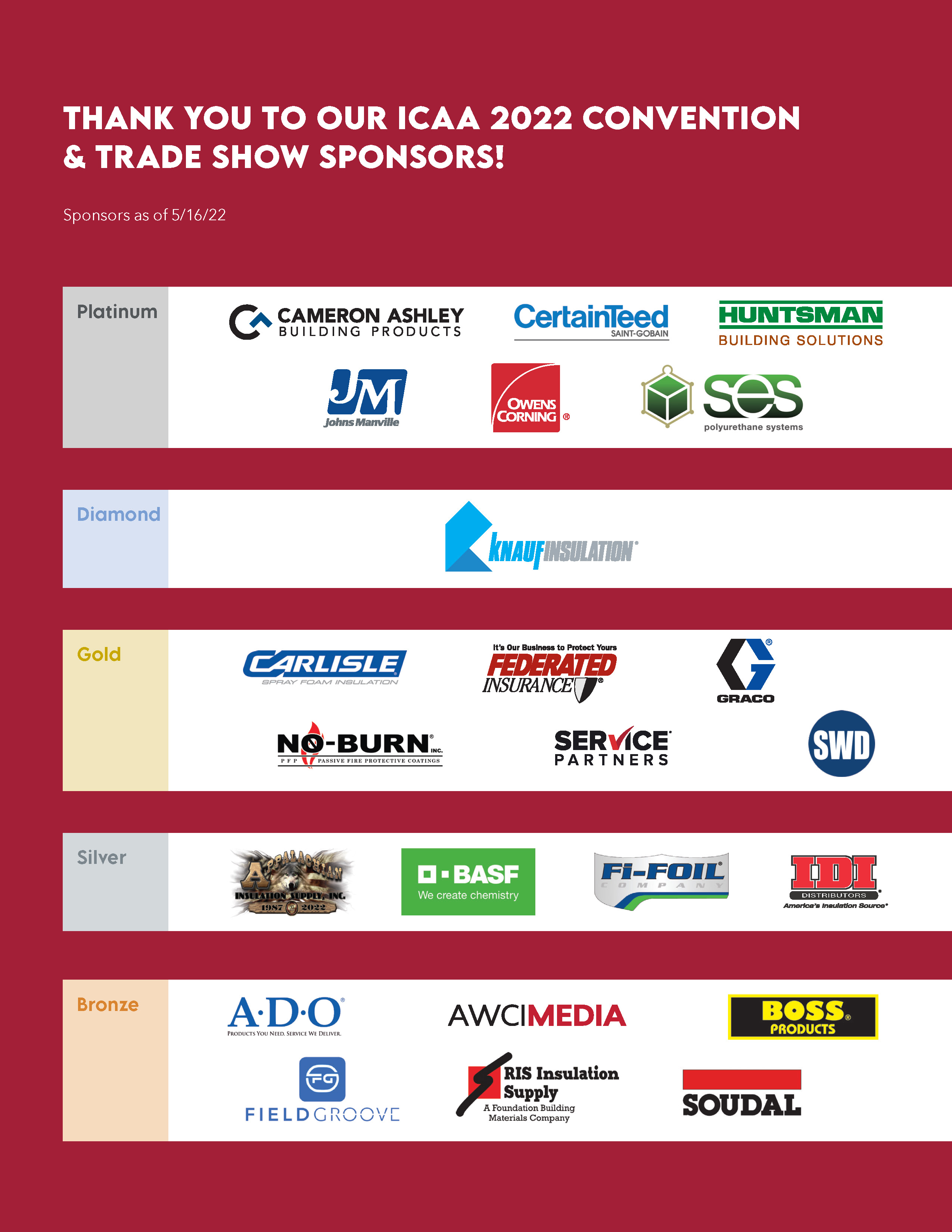 EXHIBITORS
It's time! Shine up that booth and set up shop on the ICAA Trade Show floor! Meet directly with new and existing customers, get important feedback on your products and services, and forge beneficial industry alliances. We can't wait to see you in Phoenix!
Exhibitors receive TWO free staff passes per booth and discounted registration fees for additional staff members.

ICAA Member Companies get discounted booth pricing.

Registered staff attendees can attend educational sessions at no additional charge.

Meet directly with ICAA Member Contractors – your best customers!
Click Here for an Exhibitor Prospectus
Click Here for a Current Floor Plan
Interested in Becoming a Sponsor? Click Here
ATTENDEES
Calling all contractors – let's "turn up the heat!" It's time to get together as an industry to celebrate our successes and find solutions to our challenges. There's no better place to get up to date on industry trends, grow your business skills, and, of course, source materials and make some deals – see you there!
Meet one-on-one with the biggest & best insulation industry manufacturers and suppliers.

Attend one or all of our expert-led educational sessions.

Score great trade show only deals and make important new connections.

Network with other insulation contractors and professionals.
Online Registration Opening Soon
Walk-In Registration Available Onsite
Click Here for a current A-Z list of Exhibiting Companies
ICAA 2022 CONVENTION SCHEDULE
TRADE SHOW HOURS
Thursday, September 22, 10:00 am – 3:00 pm
Friday, September 23, 10:00 am – 1:00 pm
ICAA Committee Meetings & Special Presentation
The 2021 Residential Energy Code: How to Achieve Code Compliance
Wednesday, September 21, 5:00 – 6:00 pm
Bring Your Brand to Life
Thursday, September 22, 9:15 – 10:00 am
Protect Your Business from Poachers
Thursday, September 22, 3:00 – 3:45 pm
Great Ideas All Around: A Group Discussion
Friday, September 23, 9:15 – 10:00 am
Funky Contract Clauses
Friday, September 23, 2:00 – 3:00 pm
Suit Up! How to Protect Your Business from Lawsuits
Saturday, September 24, 9:00 – 10:30 am
ICAA 2022 SOCIAL EVENTS – Open to All Registered Attendees
ICAA 2022 Golf Outing
Wednesday, September 21, 12:30 PM
GOLF OUTING REGISTRATION OPENING SOON
Join your industry colleagues on the links and reconnect before the show gets started! The gorgeous Devil's Claw Course steps away from the hotel at the Whirlwind Golf Club will be the venue for the always popular ICAA golf outing.
ICAA 2022 Welcome Reception
Wednesday, September 21, 6:00 – 8:00 PM
Join us as we gather to celebrate getting together as an industry once again.
ICAA 2022 Networking Happy Hour
Thursday, September 22, 4:30 – 6:00 PM
Tonight we'll gather and toast the official opening of ICAA 2022. 
THANK YOU TO OUR ICAA 2022 SPONSORS