2022 ICAA Convention & Trade Show
September 21 – 24, 2022
Sheraton Grand Wild Horse Pass, Phoenix, Arizona

The ICAA Convention & Trade Show is back and better than ever! This annual industry hotspot event is your one-stop shop to learn, network, and discover the latest products and services from the best in the business.
Every year, ICAA builds an educational program based on attendee feedback and timely industry trends. Our Convention Sessions cover business operations to building science and our presenters are experts in their field. The main event, however, is the accompanying Trade Show, which features a "star-studded" lineup of the industry's leading suppliers and manufacturers. 
Join us in Phoenix! For 2022, ICAA has developed a carefully chosen and thoughtfully organized educational program and schedule that ensures you won't miss any time on the trade show floor. We encourage all insulation contractors and suppliers to join us Phoenix … you've earned it!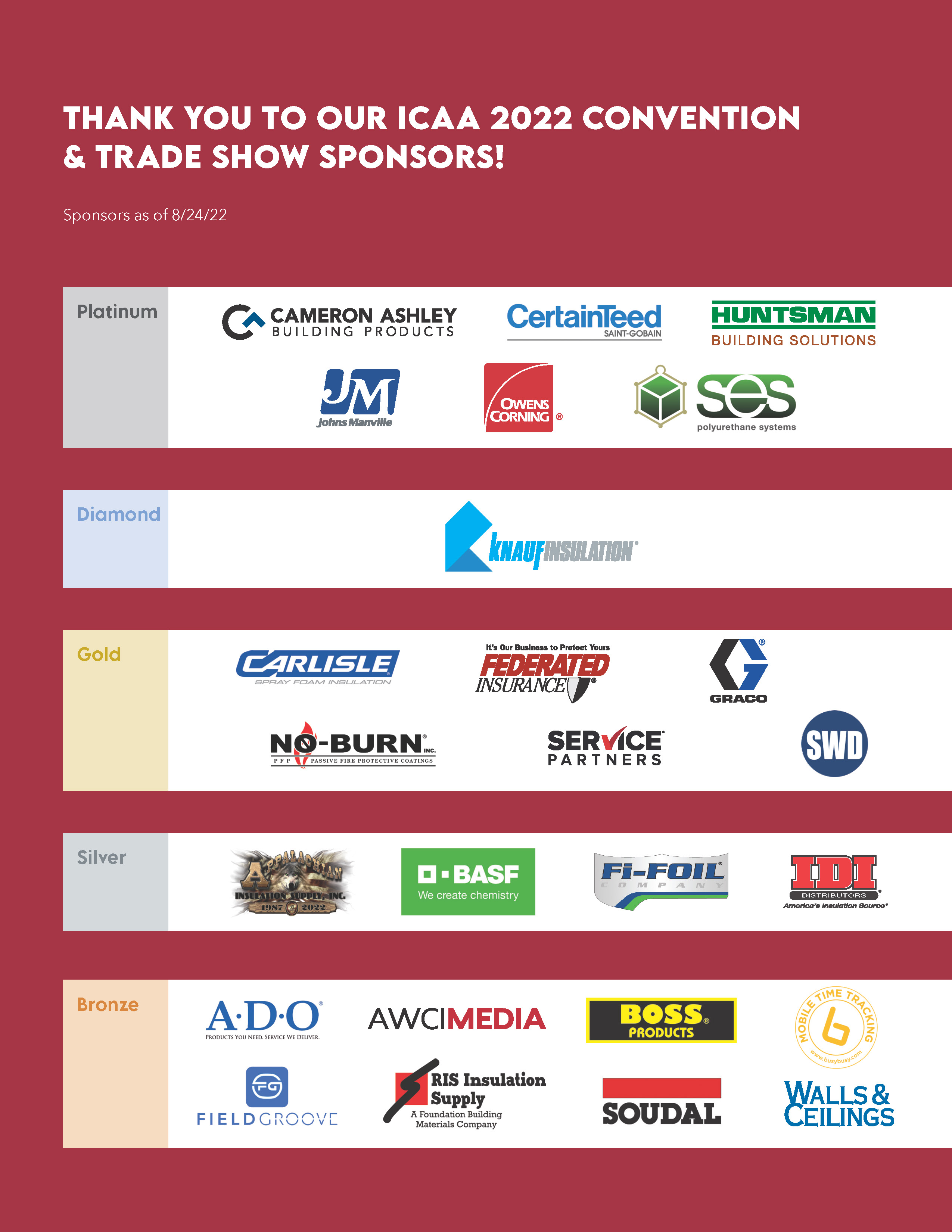 Scroll down for more information about our sponsors, including links.
EXHIBITORS
It's time! Shine up that booth and set up shop on the ICAA Trade Show floor! Meet directly with new and existing customers, get important feedback on your products and services, and forge beneficial industry alliances. We can't wait to see you in Phoenix!
Exhibitors receive TWO free staff passes per booth and discounted registration fees for additional staff members.

ICAA Member Companies get discounted booth pricing.

Registered staff attendees can attend educational sessions at no additional charge.

Meet directly with ICAA Member Contractors – your best customers!
Click Here for an Exhibitor Prospectus
Click Here for a Current Floor Plan
Interested in Becoming a Sponsor? Click Here
ATTENDEES
Calling all contractors – let's "turn up the heat!" It's time to get together as an industry to celebrate our successes and find solutions to our challenges. There's no better place to get up to date on industry trends, grow your business skills, and, of course, source materials and make some deals – see you there!
Meet one-on-one with the biggest & best insulation industry manufacturers and suppliers.

Attend one or all of our expert-led educational sessions.

Score great trade show only deals and make important new connections.

Network with other insulation contractors and professionals.
Online Registration Closed
*Walk-In Registration Available at Event*
Click Here to Register for ICAA 2022 Golf Outing
Click Here to view the ICAA 2022 Brochure
Click Here for a current A-Z list of Exhibiting Companies
ICAA 2022 CONVENTION SCHEDULE
TRADE SHOW HOURS
Thursday, September 22, 10:00 am – 3:00 pm
Friday, September 23, 10:00 am – 1:00 pm
ICAA Committee Meetings & Special Presentation
The 2021 Residential Energy Code: How to Achieve Code Compliance
Wednesday, September 21, 5:00 – 6:00 pm
Bring Your Brand to Life
Thursday, September 22, 9:15 – 10:00 am
Protect Your Business from Poachers
Thursday, September 22, 3:00 – 3:45 pm
Great Ideas All Around: A Group Discussion
Friday, September 23, 9:15 – 10:00 am
Funky Contract Clauses
Friday, September 23, 2:00 – 3:00 pm
Suit Up! How to Protect Your Business from Lawsuits
Saturday, September 24, 9:00 – 10:30 am
ICAA 2022 SOCIAL EVENTS – Open to All Registered Attendees
ICAA 2022 Golf Outing
Wednesday, September 21, 12:30 PM
GOLF OUTING REGISTRATION – CLICK HERE
Join your industry colleagues on the links and reconnect before the show gets started! The gorgeous Devil's Claw Course steps away from the hotel at the Whirlwind Golf Club will be the venue for the always popular ICAA golf outing.
ICAA 2022 Welcome Reception
Wednesday, September 21, 6:00 – 8:00 PM
Join us as we gather to celebrate getting together as an industry once again.
ICAA 2022 Networking Happy Hour
Thursday, September 22, 4:30 – 6:00 PM
Tonight we'll gather and toast the official opening of ICAA 2022. 
THANK YOU TO OUR ICAA 2022 SPONSORS
Platinum Sponsors
Cameron Ashley Building Products
Cameron Ashley is a customer-focused wholesale distributor of roofing, insulation, gypsum, siding, and other specialty building products. They deliver an industry leading portfolio of marquee brands to customers in the lumber and building materials industry. Cameron Ashley operates a network of more than 45 distribution centers stocking large quantities of building materials locally throughout the United States. They feature a variety of customer-focused delivery options under the same day or next day FAST delivery banner. Their relationship-based approach rewards customers with their PLUS® Points loyalty program, FREE merchandising, as well as purchasing and show incentives. To shop online or learn more, please visit cameronashleybp.com.
CertainTeed
Through the responsible development of innovative and sustainable building products, CertainTeed® has helped shape the building products industry for more than 110 years. Today, CertainTeed is North America's leading brand of exterior and interior building products, including roofing, siding, fence, decking, railing, trim, insulation, gypsum, and ceilings. A subsidiary of Saint-Gobain, one of the world's largest and oldest building products companies, CertainTeed and its affiliates have more than 6,300 employees and more than 60 manufacturing facilities throughout the United States and Canada.
Huntsman Building Solutions
Huntsman Building Solutions manufactures industry-leading spray polyurethane foam (SPF) and coatings for roof, attic and wall applications. Formed in May 2020 through the combination of the Demilec and Icynene-Lapolla SPF businesses, Huntsman Building Solutions, a business unit of Huntsman Corporation, has a combined heritage of more than 110 years insulating homes and buildings. Through the ecothermal approach to product design, leveraging sustainable innovative technology, Huntsman Building Solutions focuses on meeting market demands for more energy-efficient building envelopes serving a range of industries, including residential, commercial, industrial, institutional, and agricultural. At Huntsman Building Solutions our journey towards a greener building envelope begins and ends with our customers. Bringing to life architects' modern designs, providing builders innovative insulation solutions, working with applicators to improve their efficiency, delivering homeowners a comfortable living space. For more information, visit www.huntsmanbuildingsolutions.com.
Johns Manville
When you do business with Johns Manville, you can count on a strong relationship for the long haul, with the support that enables you to run your business your way. With access to one of the industry's broadest ranges of insulation solutions, you can meet virtually every demand and get the most from your inventory. Johns Manville, a Berkshire Hathaway company (NYSE: BRK.A, BRK.B), is a leading manufacturer and marketer of premium-quality products for building insulation, mechanical insulation, commercial roofing and roof insulation, as well as reinforcement fiberglass and technical nonwovens. JM serves markets that include aerospace, automotive and transportation, air handling, appliance, HVAC, pipe and equipment, air and liquid filtration, waterproofing, building, flooring, interiors and wind energy. In business since 1858, the Denver-based company has annual sales over $3 billion and holds leadership positions in all of the key markets that it serves. Johns Manville employs 8,000 people and operates 44 manufacturing facilities in North America and Europe. Additional information can be found at www.jm.com.
Owens Corning
At Owens Corning, our people and products make the world a better place. We are a global building and construction materials leader helping customers win in the market by providing innovative and sustainable solutions, which leverage our functional design and material science expertise and strong market positions. We are global in scope, with 19,000 employees in 33 countries united in our mission to build a sustainable future through material innovation. And we are human in scale, dedicated to generating value for our customers and shareholders, and making a difference in the communities where our people work and live. Founded in 1938 and based in Toledo, Ohio, USA, Owens Corning posted 2020 sales of $7.1 billion. For more information, visit www.owenscorning.com.
SES Foam
SES Spray Foam Insulations push the envelope of performance, providing the highest yields and R-values, while passing the Appendix X Fire test uncoated and boasting the highest bio-content in the industry. By providing optimal insulation, air and thermal seals in one application across challenging designs, there is no limit to the types of projects SES spray foams can tackle. SucraSeal® and EasySeal™ Open Cell Spray Foam, and Nexseal® Closed Cell Spray Foam provide energy efficiency, comfort, and peace of mind for the life of the building.
Diamond Sponsor
Knauf Insulation
Knauf Insulation North American is part of the Knauf Group AG, a family-owned global manufacturer of building materials based in Iphofen, Germany. Knauf leverages the expertise of over 35,000 employees across 250 production facilities in 86 countries to generate annual revenue of more than $12 Billion. In North America, Knauf Insulation is a leading manufacturer of thermal and acoustical fiberglass insulation for residential, commercial, industrial, OEM and metal building applications. Knauf's mission is to challenge conventional thinking and create innovative solutions that shape the way we live and build in the future, with care for the people who make them, the people who use them and the world we all depend on.
Gold Sponsors
Carlisle Spray Foam Insulation
Carlisle Spray Foam Insulation (CSFI) is a leading manufacturer of spray polyurethane foam systems. CSFI is a fully integrated, spray foam insulation solution, backed by the technology resources—and grounded on the corporate stability—of a century-old icon in the building ecosystem—Carlisle Construction Materials. The SealTite™ PRO line of spray foam insulation products are formulated to provide the highest level of thermal protection in both residential and commercial applications.
Federated Insurance
Federated Mutual Insurance Company is proud to partner with ICAA as the Association's exclusively endorsed insurance provider. Federated provides property and casualty, workers compensation, life, and disability income coverage, and bonding services to contractors across the country. Policyholders have access to a wealth of resources focused on employee training, estate planning, business continuation, workplace safety, human resources, and other risk management topics. Federated Insurance is rated A+ (Superior) by A.M. Best® and recommended by more than 500 state and national associations. It's Our Business to Protect Yours®.
Graco, Inc.
Graco Inc. supplies technology and expertise for the management of fluids and coatings in both industrial and commercial applications. It designs, manufactures and markets systems and equipment to move, measure, control, dispense and spray fluid and powder materials. A recognized leader in its specialties, Minneapolis-based Graco serves customers around the world in the manufacturing, processing, construction and maintenance industries.
No-Burn, Inc.
No-Burn, Inc. is a proven and trusted fire protection company. Since our founding in 1998, we have established ourselves as a leading fire protection company through our strong commitment to delivering superior products, field support and technical service. We are a U.S.-based manufacturer, producing a line of products that satisfy building codes, comply with stringent fire standards, and — above all else — save lives. Applications: Surface Burning Characteristics; Interior Finish Classification Class A or Class 1; Thermal Barrier Protection; Ignition Barrier Protection; Fire Resistance Interior & Exterior Assemblies.
Service Partners
Service Partners has a network of more than 75 distribution locations nationwide to help supply your business with fiberglass insulation, cellulose, mineral wool, insulation board, metal building insulation, spray foam, equipment, gutters, contractor accessories, and other building products. We are your one-stop-shop for all your insulation and accessory needs. Our scale, our depth and breadth of product offering, and our commitment to unparalleled customer service allow us to provide next day, less than truckload delivery to contractors and dealers across the country.
SWD
SWD is a leading supplier of spray polyurethane foam insulation. We are committed to furthering our customer's growth and the overall growth of the spray foam insulation industry. Our expansive research and development team enables us to make continuous innovations and additions to our product line, enabling contractors to achieve the lowest cost installed. We believe our consistent delivery of top-of-the-line products and the newest technologies, along with our dedicated service team, provide real and lasting value to our customers.
Silver Sponsors
Appalachian Insulation Supply
Appalachian Insulation Supply, Inc. (AIS) is a privately held, family-owned full line master distributor of residential and commercial insulation, spray foam, blowing machines, spray foam rigs, parts & equipment and a full line of accessories. AIS operates from 8 locations in PA, VA, TN (2), OH, SC, NC, & FL. With over 1 million square feet of warehouse space, a sales team with over 300 years of experience combined, and an affiliate transportation company, WolfPak Transport, with more than 137 power units, AIS has a distinct advantage when it comes to providing quality, reliable, on-time service to our customers.
BASF
At BASF, we create chemistry for a sustainable future. Our wide range of spray polyurethane foam (SPF) products and tools help differentiate your business in the insulation marketplace. BASF provides extensive training and technical expertise to help you succeed in today's competitive construction environment.
Fi-Foil Company, Inc.
A leader in the industry, Fi-Foil is a manufacturer of advanced reflective insulation products and systems. Offering an extensive line of value engineered products made with sustainable building materials and designed to improve energy efficiency and comfort. Products are ASTM tested and backed by third-party verified code compliance. Fi-Foil is committed to sustainability and the advancement of green building technologies for more efficient, resilient buildings. Product Visualizers and Specification Packages available at Fifoil.com. Since 1983. Service. Integrity. Innovation.
IDI Distributors
With over 60 locations servicing the insulation contractor nationwide, IDI is your One Stop Shop for all insulation products, batts, blowing wool, spray foam, foam board, mineral wool, equipment, metal building insulation, insulation accessories, bidding software, on-site support, and training. When you need more than an insulation distributor, you choose America's insulation source, IDI Distributors!
Bronze Sponsors
ADO Products
Accurate, Dependable, Outstanding – ADO's focus on customer service means you will receive what you ordered correctly – the first time. With nationwide deliveries of insulation accessories and ventilation chutes, our knowledgeable staff are here to help you grow your business, meet your deadlines, and answer your questions.
AWCI Media
AWCI's Construction Dimensions is the wall and ceiling industry's only monthly printed magazine. Beyond that, AWCI's long-term commitment also allows us to inform the industry the way professionals choose – whether in print, digital or both. Of course, our strength extends well beyond the magazine's delivery method. With a robust portfolio of e-, custom, blast, bundled and annual offerings, AWCI Media provides resources that turn promotions into fully integrated marketing campaigns.
BOSS® Products
Today's projects demand sealants, adhesives, foams and lubricants that not only work – but excel. The BOSS® line of products meets the needs of the most demanding applications. BOSS® technology and quality ensure these products will perform to the highest levels for all your construction needs.
busybusy Mobile Time Tracking
busybusy is the #1 Time Tracking and Job Costing App for Construction. busybusy was created to bring new levels of efficiency to work performed in the field. From any Android or Apple mobile phone or tablet, via app or web browser, you can use the cloud-based solution to accurately track mobile crews' hours, gain transparency into exactly where your people are in the field, and improve basic business processes so that you're earning more by doing less. Favorite features include: GPS Time Tracking, Supervisor Time Tracking, Scheduling, Photos & Notes, Budgets, PTO, Safety Reports, Daily Project Reports, Work Accomplished, and more.
FieldGroove
Field Service Software Built by Contractors for Contractors. FieldGroove is field service software that enables contractors to build estimates, schedule jobs, track assets, and invoice customers, from any device at any time.
RIS Insulation Supply
RIS Insulation Supply is a division of Foundation Building Materials, distributing insulation, spray foam, spray foam rigs, mineral wool, sheathing and related materials. Selling primarily to contractors and building material dealers, we offer industry leading products, service and systems knowledge. Our staff is committed to providing the best value to our customers through consistency & reliability.
Soudal USA
Experts in sealants, foams and adhesives. Soudal operates in over 100 countries, including a state of the art manufacturing facility in Elizabethtown, Kentucky. Soudal excels at offering solutions with advanced product and service knowledge.
Walls & Ceilings Magazine
Walls & Ceilings serves the interior and exterior wall and ceiling industry with the latest news and information on building methods, drywall, stucco/EIFS, ceilings, acoustics, steel framing, insulation, plaster technology and regulations in the market. We're proud of our commitment to being "The Voice of the Industry since 1938."