2021 ICAA Convention & Trade Show
September 23 – 25, 2021
JW Marriott San Antonio Hill Country Resort & Spa
San Antonio, Texas

The ICAA Convention & Trade Show is back and better than ever! This annual industry hotspot event is your one-stop shop to learn, network, and discover the latest products and services from the best in the business.
Every year, ICAA builds an educational program based on attendee feedback and timely industry trends. Our Convention Sessions cover business operations to building science and our presenters are experts in their field. The main event, however, is the accompanying Trade Show, which features a "star-studded" lineup of the industry's leading suppliers and manufacturers. 
Join us in San Antonio! For 2021, ICAA has developed a carefully chosen and thoughtfully organized educational program and schedule that takes into account appropriate safety measures. We encourage all insulation contractors and suppliers to join us San Antonio … you've earned it! 
Wheels Up! Click here to read a message from ICAA President Terry Burnham.
Click here to watch a 1-minute video from Kelly McDonald, our speaker for Proven Tips & Tactics: Proven Ways to Recruit and Retain Employees.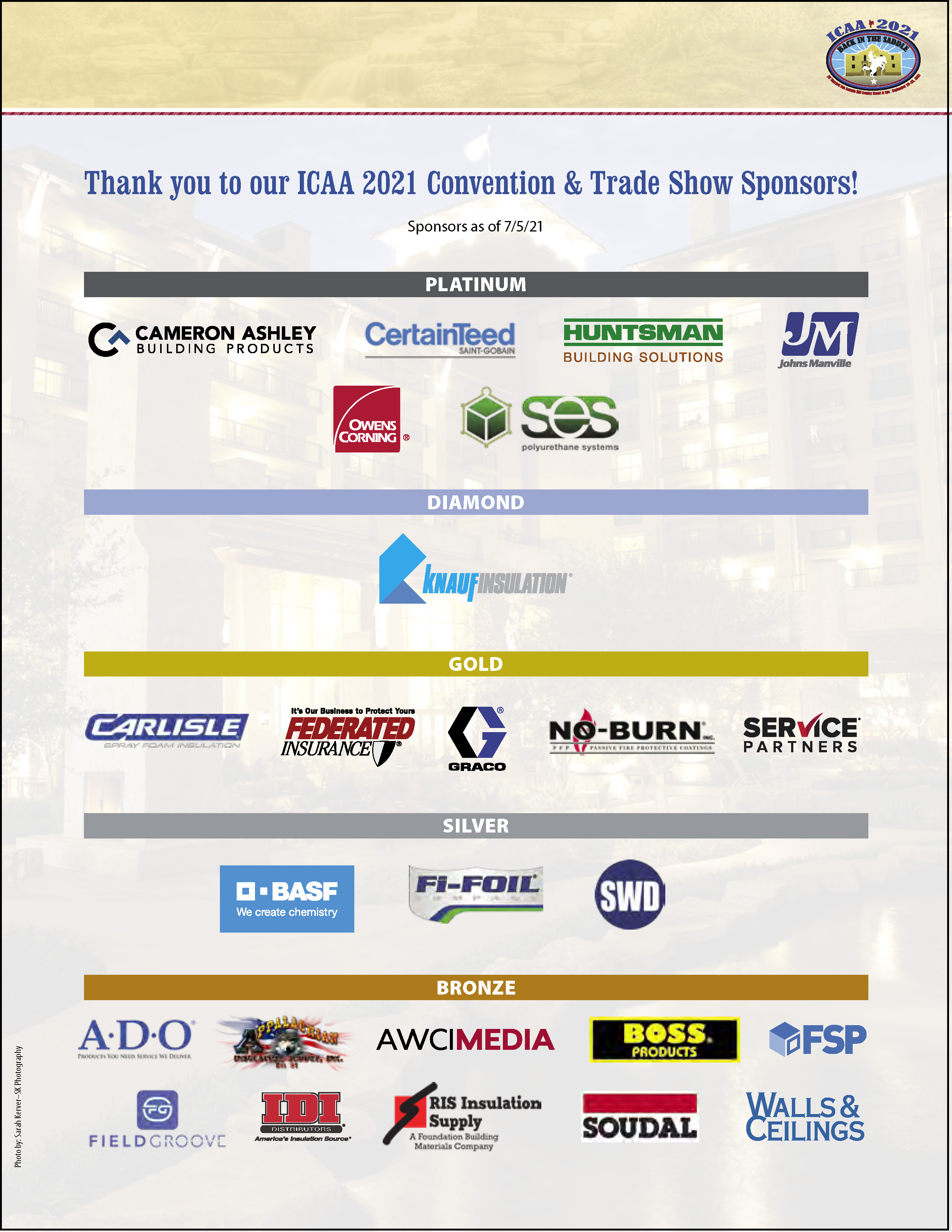 Scroll down for a list of our Sponsors with links!
EXHIBITORS
It's time! Shine up that booth and set up shop on the ICAA Trade Show floor! Meet directly with new and existing customers, get important feedback on your products and services, and forge beneficial industry alliances. We can't wait to see you in San Antonio!
Exhibitors receive TWO free staff passes per booth and discounted registration fees for additional staff members.

ICAA Member Companies get discounted booth pricing.

Registered staff attendees can attend educational sessions at no additional charge.

Meet directly with ICAA Member Contractors – your best customers!
Click Here for an Exhibitor Prospectus
Click Here for a Current Floor Plan
Interested in Becoming a Sponsor? Click Here
ATTENDEES
Calling all contractors – let's get "back in the saddle!" After an unusual year, it's time to get together as an industry to celebrate our successes and find solutions to our challenges. There's no better place to get up to date on industry breakthroughs and trends, grow your business skills, and, of course, source materials and make some deals – see you there!
Meet one-on-one with the biggest & best insulation industry manufacturers and suppliers.

Attend one or all of our expert-led educational sessions.

Score great trade show only deals and make important new connections.

Network with other insulation contractors and professionals.
Online Registration Closed
Walk-In Registration Available Onsite
Click Here to view the ICAA 2021 Brochure
Click Here for a current A-Z list of Exhibiting Companies
ICAA 2021 CONVENTION EDUCATIONAL SESSION DESCRIPTIONS
Programming Note: In order to accommodate social distancing and attendance limits, educational sessions will repeat: once in the morning and again in the afternoon.
To Win, We Must Innovate and Lead Strong
Thursday, September 23, 10:00 – 11:00 am & 1:30 – 2:30 pm
Entrepreneurs are the engine of our economy, creating new jobs and inspiring everyone around them. Join us as we discuss several tools to make company innovation happen daily. Hear the playbook on how to gain a competitive advantage, drive a culture of innovative growth in the new business landscape, and lead strong when times are uncertain and uncharted.
Presentation Preview – Click Here: Proven Tips & Tactics: Proven Ways to Recruit and Retain Employees
Speaker: Kelly McDonald, McDonald Marketing
Thursday, September 23, 11:00 – Noon & 2:30 – 3:30 pm
You'll hear about low- or no-cost, practical, action-oriented recommendations to find employees, and you'll learn about the power of networking and new recruiting techniques. We'll help you understand the elements of a "stay interview" so you can understand what to do to keep your star employees, and to learn to identify the five red flags that can derail your recruiting and hiring process. 
Contracts: Negotiating from a Position of Strength
Friday, September 24, 10:00 – 11:00 am & 1:00 – 2:00 pm
Love it or hate it, every insulator has to review contracts, and this only gets tougher as contracts become more sophisticated. We'll break down general contractor (GC) contract terms that help you redirect risk and liability; explain key terms, conditions, and problematic clauses; and identify tactics to use in your next contract negotiation with the GC. Learn what to insist on and where you can be flexible. In addition, we'll highlight ICAA Standard Exclusions and Clarifications, the new ICAA Standard Terms and Conditions Addendum, ICAA Model Disclaimers, and the AIA 401 Standard Form and Consensus Docs. Because dealing with homeowners is a lot different than dealing with GCs, we'll also address the Terms and Conditions for new construction vs. retrofit projects. Finally, in light of recent supply chain disruptions, we'll show you how to compensate for scarcity of materials and raw material cost increases in your contracts.
Top 10 Labor Law Issues Keeping Insulators Up at Night
Friday, September 24, 11:00 – Noon & 2:00 – 3:00 pm
In this session, we'll run the gamut from demonstrating arm's length agreements when hiring independent contractors, to your obligations under Davis-Bacon for prevailing wage jobs, to the overtime rule under the Fair Labor Standards Act. We'll also answer the following questions:
Must we pay our employees for lunch periods and/or non-meal breaks?

How do we correctly pay overtime on piece rate?

When employees arrive to work earlier than scheduled, does their pay begin when the arrive or when the begin working?

Is it legal for us to furnish I-9 forms to a GC who demands them?

Are we liable for penalties resulting from an independent contractor's failure to comply with OSHA and insurance requirements?

How do we maintain an arm's length relationship with an independent contractor?

Are H-2B Visas an option for insulation contractors in need of employees?

Now that marijuana is legal in my state, what can I do to ensure my employees are not high on the job??
SPF Applications: When, Where How
Speaker: Brian Cote', Risk Manager, Installed Building Products | Chair, ICAA Spray Foam Task Force
Saturday, September 25, 9:30 – 11:00 am
BPI CEU Credits earned with this session!
Learn about proper applications for a variety of conditions, substrates, and climates, including curing guidance and line flushing protocols. We'll cover which foam applications work best for metal buildings, inspecting installs, setting up an optimal SPF rig, maintaining A:B ratios, and ensuring efficient spray techniques, even under extreme conditions. 
ICAA 2021 SOCIAL EVENTS – Open to All Registered Attendees
ICAA 2021 Golf Outing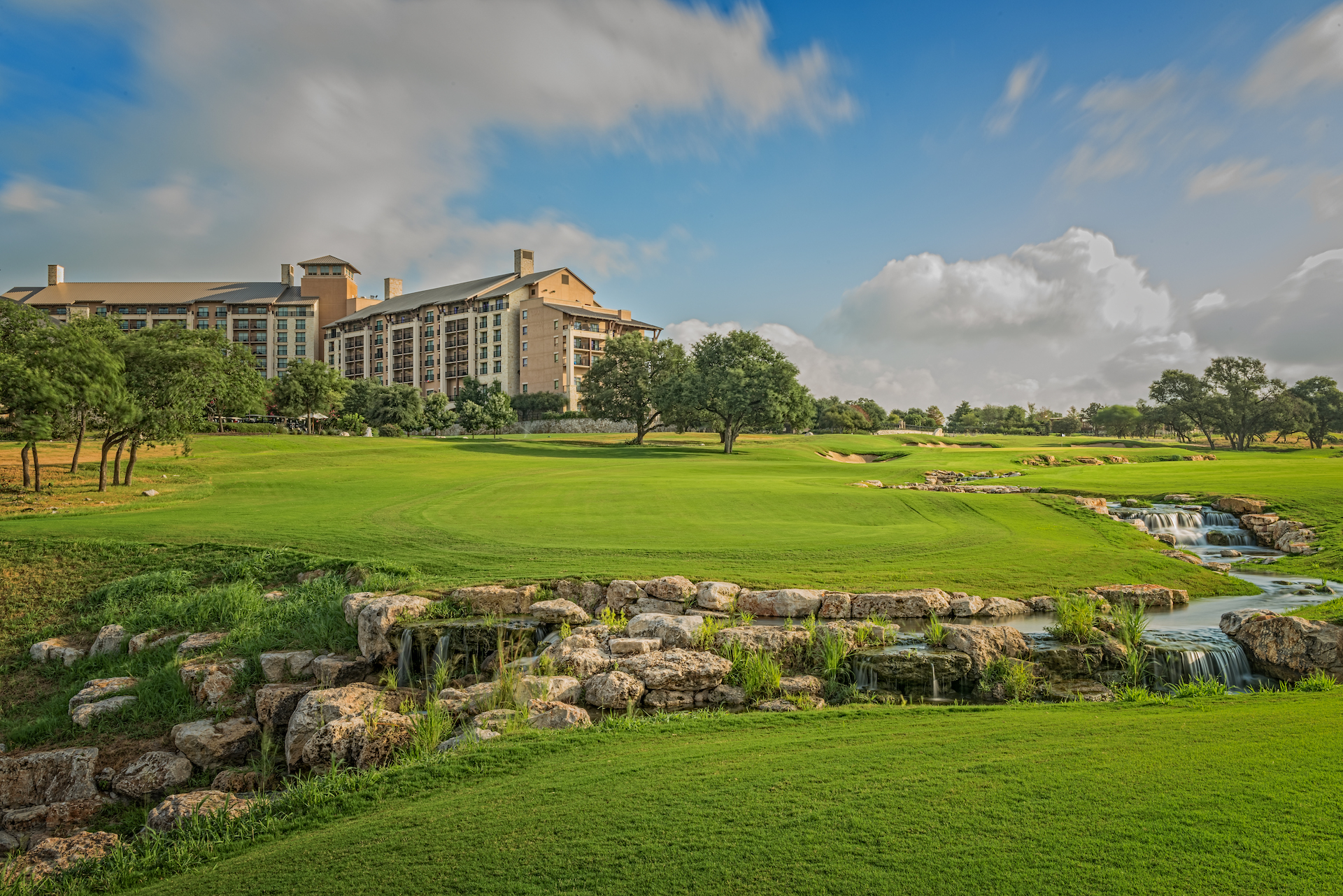 Wednesday, September 22, 1:00 PM
Join your industry colleagues on the links and reconnect before the show gets started! The gorgeous PGA-rated CANYONS COURSE on the hotel premises will be the venue for the always popular ICAA golf outing. 
Additional Fee & Registration Required for Golf Outing – CLICK HERE TO REGISTER
ICAA 2021 Welcome Reception
Wednesday, September 22, 6:00 – 8:00 PM
Join us on the resort's GREAT LAWN area, just steps from the hotel lobby, as we gather to celebrate getting "Back in the Saddle" and coming together as an industry once again.
ICAA 2021 Happy Hour
Thursday, September 23, 4:00 – 6:00 PM
Tonight we'll gather on the RIVER BEND PAVILION LAWN and toast the official opening of ICAA 2021. 
THANK YOU TO OUR ICAA 2021 SPONSORS
Platinum Sponsors
Cameron Ashley Building Products
With over 150 years in the industry, Cameron Ashley Building Products is a leading building material distributor serving insulation contractors. Through our network of over 40 strategically-located distribution centers, and an experienced direct-from-manufacturer sales team, you can purchase in the way that works best for your business. You'll have access to a full line of insulation products including fiberglass, blowing wool, spray foam, and even more accessories through J&R Products (now a division of Cameron Ashley)!
CertainTeed
Through the responsible development of innovative and sustainable building products, CertainTeed® has helped shape the building products industry for more than 110 years. Today, CertainTeed is North America's leading brand of exterior and interior building products, including roofing, siding, fence, decking, railing, trim, insulation, gypsum, and ceilings. A subsidiary of Saint-Gobain, one of the world's largest and oldest building products companies, CertainTeed and its affiliates have more than 6,300 employees and more than 60 manufacturing facilities throughout the United States and Canada.
Huntsman Building Solutions
Huntsman Building Solutions, a business unit of Huntsman Corp., is a recognized industry leader in the use of innovative technology and advanced science to create a variety of open-cell and closed-cell spray foam formulas and coatings. Our focus remains meeting market demands for more energy-efficient products to serve a range of industries, including residential, commercial, industrial, institutional, and agricultural. Huntsman Building Solutions was created in May 2020, following Huntsman's acquisition of Icynene-Lapolla in February 2020, and Demilec in April 2018. Together, the businesses are now one of the world's leading SPF providers and the fifth largest insulation manufacturer in the world. The combined business provides customers with an unmatched offering of energy-saving open-cell and closed-cell spray foam solutions. For more information, visit www.huntsmanbuildingsolutions.com.
Johns Manville
When you do business with Johns Manville, you can count on a strong relationship for the long haul, with the support that enables you to run your business your way. With access to one of the industry's broadest ranges of insulation solutions, you can meet virtually every demand and get the most from your inventory.
A Berkshire Hathaway Company. Johns Manville is proud to be part of Berkshire Hathaway, one of the most respected, financially sound companies in the world. We operate with unquestionable integrity and stability and have unmatched resources to invest in developing future insulation solutions designed to exceed our customers' needs.
More than 160 Years of Experience. When JM was founded in 1858, we focused on developing materials to make diverse environments stronger, durable, more energy-efficient and comfortable. We also believed in building relationships by providing outstanding service and support. The world has changed, but our principles still hold true today.
Owens Corning
Owens Corning is a global building and industrial materials leader. The company's three integrated businesses are dedicated to the manufacture and advancement of a broad range of insulation, roofing and fiberglass composite materials. Leveraging the talents of 18,000 employees in 33 countries, Owens Corning provides innovative products and sustainable solutions that address energy efficiency, product safety, renewable energy, durable infrastructure, and labor productivity. These solutions provide a material difference to the company's customers and make the world a better place. Based in Toledo, Ohio, USA, the company posted 2019 sales of $7.2 billion. Founded in 1938, it has been a Fortune 500® company for 66 consecutive years. For more information, please visit www.owenscorning.com.
SES Foam
SES Spray Foam Insulations push the envelope of performance, providing the highest yields and R-values, while passing the Appendix X Fire test uncoated and boasting the highest bio-content in the industry. By providing optimal insulation, air and thermal seals in one application across challenging designs, there is no limit to the types of projects SES spray foams can tackle. SucraSeal™ and EasySeal™ Open Cell Spray Foam, and Nexseal™ Closed Cell Spray Foam provide energy efficiency, comfort, and peace of mind for the life of the building.
Diamond Sponsor
Knauf Insulation
We're a leading, family-owned global manufacturer of fiberglass insulation — delivering thermal and acoustical solutions for residential, commercial, industrial and OEM applications. Our mission is to challenge conventional thinking, create innovative insulation solutions that shape the way we live and build in the future, with care for the people who make them, who use them and the world we live in. Through our commitment to quality, service and performance, we seek to lead the charge in developing smarter insulation solutions. Using recycled and renewable materials, our world will see improved energy efficiency and healthier living environments.
Gold Sponsors
Carlisle Spray Foam Insulation
Carlisle Spray Foam Insulation (CSFI) is a leading manufacturer of spray polyurethane foam systems. CSFI is a fully integrated, spray foam insulation solution, backed by the technology resources—and grounded on the corporate stability—of a century-old icon in the building ecosystem—Carlisle Construction Materials. The SealTite™ PRO line of spray foam insulation products are formulated to provide the highest level of thermal protection in both residential and commercial applications.
Federated Insurance
Federated Mutual Insurance Company is proud to partner with ICAA as the Association's exclusively endorsed insurance provider. Federated provides property and casualty, workers compensation, life, and disability income coverage, and bonding services to contractors across the country. Policyholders have access to a wealth of resources focused on employee training, estate planning, business continuation, workplace safety, human resources, and other risk management topics. Federated Insurance is rated A+ (Superior) by A.M. Best® and recommended by more than 500 state and national associations. It's Our Business to Protect Yours®.
Graco, Inc.
Graco Inc. supplies technology and expertise for the management of fluids and coatings in both industrial and commercial applications. It designs, manufactures and markets systems and equipment to move, measure, control, dispense and spray fluid and powder materials. A recognized leader in its specialties, Minneapolis-based Graco serves customers around the world in the manufacturing, processing, construction and maintenance industries.
No-Burn, Inc.
No-Burn, Inc. is a proven and trusted fire protection company. As a manufacturer of premier passive fire protective coatings, they provide code-compliant solutions and life-saving protection. Family-owned and operated, we are a U.S.-based manufacturer, producing a line of products that satisfy building codes, comply with stringent fire standards, and — above all else — save lives. Applications: Surface Burning Characteristics; Interior Finish Classification Class A or Class 1; Thermal Barrier Protection; Ignition Barrier Protection; Fire Resistance Interior & Exterior Assemblies.
Service Partners
Service Partners has a network of more than 75 distribution locations nationwide to help supply your business with fiberglass insulation, cellulose, mineral wool, insulation board, metal building insulation, spray foam, equipment, gutters, contractor accessories, and other building products. We are your one-stop-shop for all your insulation and accessory needs. Our scale, our depth and breadth of product offering, and our commitment to unparalleled customer service allow us to provide next day, less than truckload delivery to contractors and dealers across the country.
Silver Sponsors
BASF
At BASF, we create chemistry for a sustainable future. Our wide range of spray polyurethane foam (SPF) products and tools help differentiate your business in the insulation marketplace. BASF provides extensive training and technical expertise to help you succeed in today's competitive construction environment.
Fi-Foil Company, Inc.
A leader in the industry, Fi-Foil is a manufacturer of advanced reflective insulation products and systems. Offering an extensive line of value engineered products made with sustainable building materials and designed to improve energy efficiency and comfort. Products are ASTM tested and backed by third-party verified code compliance. Fi-Foil is committed to sustainability and the advancement of green building technologies for more efficient, resilient buildings. Product Visualizers and Specification Packages available at Fifoil.com. Since 1983. Service. Integrity. Innovation.
SWD Urethane
SWD Urethane is a leading supplier of spray polyurethane foam insulation. We are committed to furthering our customer's growth and the overall growth of the spray foam insulation industry. Our expansive research and development team enables us to make continuous innovations and additions to our product line, enabling contractors to achieve the lowest cost installed. We believe our consistent delivery of top-of-the-line products and the newest technologies, along with our dedicated service team, provide real and lasting value to our customers.
Bronze Sponsors
ADO Products
Accurate, Dependable, Outstanding – ADO's focus on customer service means you will receive what you ordered correctly – the first time. With nationwide deliveries of insulation accessories and ventilation chutes, our knowledgeable staff are here to help you grow your business, meet your deadlines, and answer your questions.
AWCI Media
AWCI's Construction Dimensions is the wall and ceiling industry's only monthly printed magazine. Beyond that, AWCI's long-term commitment also allows us to inform the industry the way professionals choose – whether in print, digital or both. Of course, our strength extends well beyond the magazine's delivery method. With a robust portfolio of e-, custom, blast, bundled and annual offerings, AWCI Media provides resources that turn promotions into fully integrated marketing campaigns.
Appalachian Insulation Supply
Appalachian Insulation Supply, Inc. (AIS) is a privately held, family-owned full line master distributor of residential and commercial insulation, spray foam, blowing machines, spray foam rigs, parts & equipment and a full line of accessories. AIS operates from 8 locations in PA, VA, TN (2), OH, SC, NC, & FL. With over 1 million square feet of warehouse space, a sales team with over 300 years of experience combined, and an affiliate transportation company, WolfPak Transport, with more than 137 power units, AIS has a distinct advantage when it comes to providing quality, reliable, on-time service to our customers.
BOSS® Products
Today's projects demand sealants, adhesives, foams and lubricants that not only work – but excel. The BOSS® line of products meets the needs of the most demanding applications. BOSS® technology and quality ensure these products will perform to the highest levels for all your construction needs.
FieldGroove
Field Service Software Built by Contractors for Contractors. FieldGroove is field service software that enables contractors to build estimates, schedule jobs, track assets, and invoice customers, from any device at any time.
Flame Seal Products, Inc.
Flame Seal Products, Inc., manufacturer of the world's number one fire prevention technology, was founded in 1992 as a research and development company focused on the investigation and application of passive Fire Prevention Technologies. Flame Seal offers a wide variety of Code Driven solutions for several diverse applications for industries such as Spray Polyurethane Foam Insulation, Aviation, Lumber, Leather, and Wildfire.
IDI Distributors
Over 55 locations servicing the insulation contractor nationwide with all insulation products, batts, blowing wool, spray foam, equipment, metal building insulation, ceiling tiles, and related accessories.
RIS Insulation Supply
RIS Insulation Supply is a division of Foundation Building Materials, distributing insulation, spray foam, spray foam rigs, mineral wool, sheathing and related materials. Selling primarily to contractors and building material dealers, we offer industry leading products, service and systems knowledge. Our staff is committed to providing the best value to our customers through consistency & reliability.
Soudal USA
Experts in sealants, foams and adhesives. Soudal operates in over 100 countries, including a state of the art manufacturing facility in Elizabethtown, Kentucky. Soudal excels at offering solutions with advanced product and service knowledge.
Walls & Ceilings Magazine
Walls & Ceilings serves the interior and exterior wall and ceiling industry with the latest news and information on building methods, drywall, stucco/EIFS, ceilings, acoustics, steel framing, insulation, plaster technology and regulations in the market. We're proud of our commitment to being "The Voice of the Industry since 1938."